Plaque for the Civil Guard Building of Salo-Uskela and Memorial Plaque for Soldier Boys and Little Lottas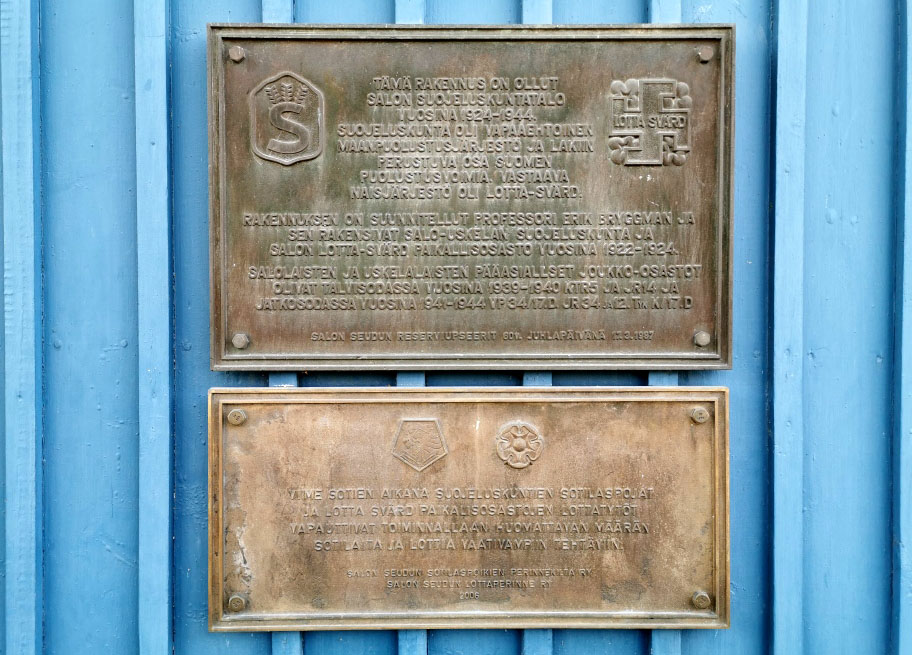 In 1987, the plaque for the Civil Guard Building of Salo-Uskela was attached to the wall of what is today called the Blue House (Rummunlyöjänkatu 2). Salon Seudun Reserviupseerit, the second oldest reserve officer association in Finland, acquired the bronze plaque for the wall of the former civil guardhouse in connection with the 60th anniversary of the association. The plaque describes the different phases of the building's history, and the troops in which the residents of Salo fought between 1939 and 1945. The civil guardhouse of Salo-Uskela was designed by the architect Professor Erik Bryggman in the beginning of the 1920s. The building was the first one in Southwest Finland to be built as a civil guardhouse. The house was constructed in 1923 by the Civil Guard of Salo and the local Lotta Svärd branch in Salo. The building is now protected.
On 22 November 2006, a commemorative plaque was unveiled on the facade of the Blue House by the Sotilaspoikien Perinnekilta ry and Salon Seudun Lottaperinne ry associations. The plaque commemorates the young boys and Lotta girls who served in voluntary tasks in close cooperation with the army: "During the last wars, the young soldier boys and Little Lottas of the Civil Guard liberated a significant number of soldiers and Lottas to do more demanding tasks".
Erik Bryggman was one of the early architects who experimented with Functionalism in our country. In his later production, he represented the trends of post-war architecture. Bryggman worked in Turku and designed several buildings for Salo. The best one of them is the former Cinema Kiva, which has now been protected as a nationally significant architectural site.