Matildanjärvi Cabins in Teijo National Park
Matildanjärventie 84, Matilda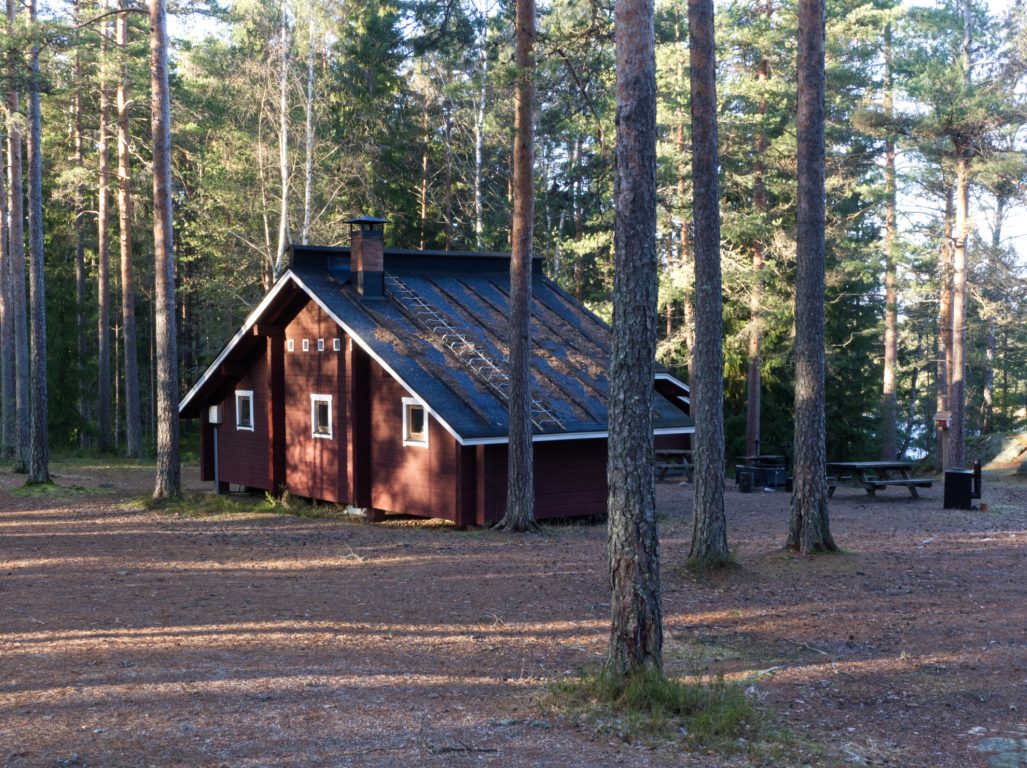 Rent a cabin in Teijo National Park. Natura Viva's Vaappu and Lippa stand on the shores of Lake Matildanjärvi in a magnificent location.
Natura Viva offers two rental cabins – Vaappu and Lippa – for rent in the Teijo National Park. These 6-person cabins are built in a beautiful place in nature on the shore of Lake Matildanjärvi, sharing the same yard. The cabins were originally built for fishermen and now serve as an ideal destination for the whole family all year round. Come enjoy the scenery of the magnificent national park! Book a wilderness cabin in the Teijo National Park and experience beautiful nature in the middle of the forest.
Holiday in nature in Teijo National Park
Vaappu and Lippa are genuine wilderness cabins where you can enjoy a pleasant and traditional summer holiday and cozy up in the darkening evenings of the autumn. The well equipped cabins in Teijo National Park provide a great opportunity for a wide range of hiking and relaxation options.
Both cabins can accommodate six people. Each cabin has two bedrooms and a living room in the middle. The main source of heat is a wood-burning stove but the cabins also have electric radiators. These cabins, which were originally known as Teijo's fishing cabins, take visitors back in history to experience life in the middle of the forest.
The cabins have electricity but no running water, so you can get drinking water from the Teijo Nature Centre which is located 100 metres away. You can also take a shower at the Nature Centre.
In the cabin yard, you can find an outhouse for each cabin and a shared outdoor fireplace with benches and a table. Vaappu and Lippa are well suited as a holiday destination even for a larger group, as their shared yard makes you feel like you are living communally.
Renters at Vaappu and Lippa also have access to the sauna. The cabin reservations include an hour per day in the Matildanjärvi sauna, which is located on the shore of Lake Matildanjärvi about 300 metres from the cabin. If both cabins are booked by the same person, the sauna service is two hours long.
Majestic location
Vaappu and Lippa are located on the shore of Lake Matildanjärvi, a short walk from the Teijo Nature Centre where the Nature Centre café and Natura Viva's equipment rental are at the disposal of visitors to Teijo National Park.
Vaappu and Lippa are located along the Lake Matildanjärvi Trail, one of the most beautiful trails in Teijo National Park. Lake Matildanjärvi itself is excellent for both water activities and fishing trips: rainbow trout are regularly planted at this special Metsähallitus fishing site. Rent a rowing boat at the Teijo Nature Centre and take a fishing trip to the lake.
The Teijo Nature Centre also has kayaks, canoes and SUP boards for rent. A paddling trip in the peaceful waters of Lake Matildanjärvi is an excellent activity for the whole family or even your work community. Stand-up paddle boarding is a fun summer sport: paddle on slowly on the SUP board standing up or on your knees and enjoy the surrounding nature.
Take a tour in Teijo National Park by fatbike
The rental shop at the Teijo Nature Centre also offers fatbikes which are very good off-road bicycles. Teijo National Park has several great mountain bike trails and three ironworks villages with historical attractions just a short cycling distance away.
One of three ironworks villages in the area, Mathildedal, is about one kilometre away from the huts. In this charming small village, you can visit handicrafts workshops, eat in a restaurant and enjoy refreshments at the village's own pub brewery. Teijo village is located five kilometres from Mathildedal, and Kirjakkala ironworks village is seven kilometres away.